I still need to finish the gold belt and attach the light to the front, but you get the idea. The shirt is done.. I need to track down the jabot from Cornelia/red mage to re-use here since I didn't get to make the new one for this costume.
I found my Cornelia wig, so I think I'll bring that costume along, too. I still haven't made the cloak. whoops.
I'm also working on touching up the Mayuri mask. Need to find my grillz. Grillz are important.
Need to re-seal the mask with real silicone this time, instead of that ghetto makeup fixer the clown at the costume store sold me.
Need to.. make Rubicante costume XD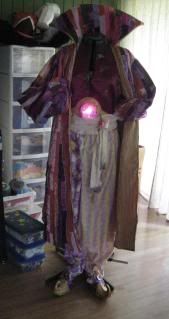 Current Mood:
stressed