I need to buy some gold grillz for a costume. How silly is that?!?!

Also... I can't seem to find the big purple neck thing for Mayuri. WTF. It is huge! How did it dissappear?!?
~~~~~

Found the purple thing. I had to make sure the new wig fit with it. I'm working on it a little bit today. I decided to entirely re-do the bottom jaw peice since I had it pointed the wrong direction. Most wouldn't even notice, but it would bother me to no end, so I ripped it off, and I'm drafting a new peice.

I need to make a few new cowls. The old one is really beat up since I'd been gluing foam to it. I should get that done so I can wear it one last time somewhere, especially since I fixed a lot of the gold peices on the original hat. Maybe I'll just sell the old hat. lawl.

I really thought the wig would fit better than it does. I know I wasn't putting my hair up in a wig cap when I was working on it before, but it was deliberately loose before, too. It's a little tight now. Boo. I'll have to deal.

This is already shaping up to be plenty scary, though.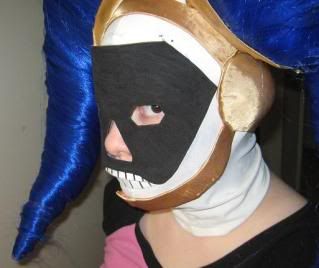 ~~~~~~~~

Ah crap. I can't seem to find anymore of that antique gold upholstery satin. It's the stuff I've used for the old and new mayuri hats, as well as those LOLTASTIC pants I made for the cross-dress halloween party a few years back. I thought I had way more of it left, but I can't find it anywhere. I've put away all my remnants now, and there's only 1 bag of assorted fur, and 1 bag of new fabric left. I'm going to have to tear apart those fabric bins tonight, and if I can't find more of the fabric, I'm going to have to cut up those pants, or re-do ALL of the mayuri hat. And I'm not doing that, so goodbye pants if I can't find at least a half a yard somewhere :X I can't go out and buy more, because I got it in a clearance remnant bin a few years back. It was an amazing find, and I wish there were more of it.