I can't figure out why halfway down the length of my coat yardage, everything starts going slantways. I thought maybe the pink woven stuff was creeping around, so I decided to start ironing the stabilizer on. I'm not done sewing the yardage yet, but I'll have trouble cutting out a kittycorner coat.
Since it was frustrating me, I decided to take a break and sew pants. The pants pattern I use is just an XXL men's PJ pattern. When I put some elastic in the waist, and gather the bottoms, it's auto-clown-poofypants. I sewed them together, put the waist elastic in, and finished the raw edges of the outer seams with gold zigzag for tha bling bling. I still need to make the cuffs at the bottom of the pants, though, and gather/hem that, but it won't take long. Jo Ann's re-stocked that gold cluny lace. It only took a few years from the last time I bought the last of the previous bolt, and recently, when I bought the last 9 yards of it. I plan on using some of it on the bottom cuffs of the pants, just like what I did for Gogo. It's hardly visible because the pants poof out so much, but I feel fancy knowing that it's there.
If I can't stand the coat again tomorrow, maybe I'll get my shirt done :P
Edited for exciting photos!
I realized that I had a burgundy silk shirt from when I was in Jr. High and I thought I would grow up to be Jennifer Connelly in Labyrinth. When we went clothes shopping every year for school, we'd go to these great discount places like Melrose. You were lucky if you found somthing you liked in your size, but I'd deliberately go and get THE BIGGEST HONKING silk blouses I could find, because that made the sleeves super poofy. I figured I'd just tuck the rest into some trendy black denim jeans, and wear a really flashy vest to cover up the baggy, and I'd have an awesome poet blouse on the cheap. This was way before hot topic :X
I'd have to take out the shoulder pads from the shirts, too. Because 80's lawl.
Anyway, it was really hard to find the silk blouses, but I got lucky one year and got one in red, and one in burgundy. I wore the shit out of them! I think I had to throw the red one away because it got a hole in it or somthing. But the burgundy will work for Tellah if I don't finish the shirt!!!!!!! I'm so excited about this.
So.. haha.. Left is my fabric. ( I REALLY REALLY wanted a burgundy/maroon brocade with a widely-spaced star pattern, but there was no finding one. Most of the brocades are asian print. I found some widely-spaced butterflies, though) Right is my super awesome silk blouse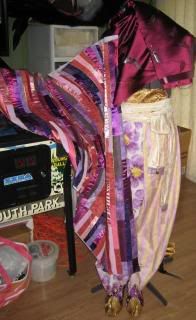 It's like the shirt magically made itself! HAAAAAH
(
Collapse
)
Anyway.. Tania is right. I need some eyebrows on these glasses. I don't know when I'll get around to that, though